EQUIPMENT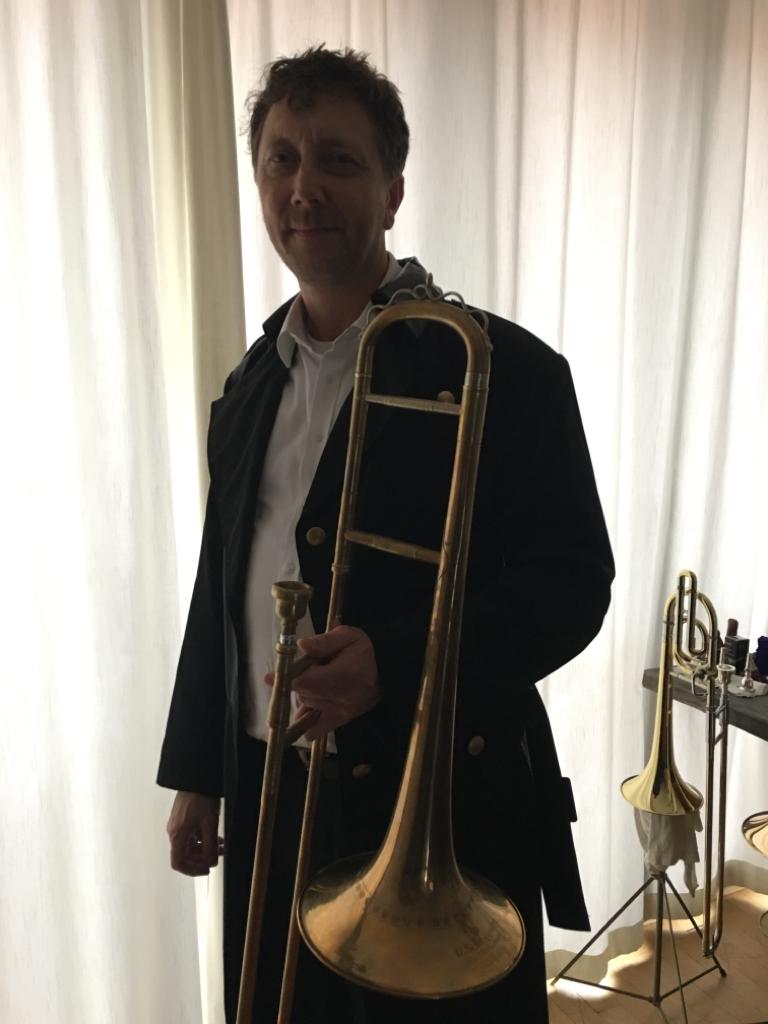 As CONN SELMER artist I am set with trombones by Vincent Bach or C.G. CONN what's really my pleasure - for solo playing.
Although it's not easy to find really good trombones with a quick speaking quality and other special features like the nicest sound you prefer, good intonation and some ergonomic qualities like the handling of valves for example.
I work as principal in a big German opera and Symphony orchestra, the Staatskapelle Halle, where we all play German brass instruments mostly.
So, my main instrument in the orchestra is a Lätzsch tenor and alto with some excursions to old romantic trombones like an old Kruspe alto and a Heckel tenor.
Often I feel very happy with my Bach 42 with a 50 Basstrombone handslide, what is my favorite for the Solo in Mahler's 3rd Symphony and lots of other pieces.
In the pit of our opera I prefer a small bore trombone like the 36 because the pit isn't very big and you have lots of wooden walls around you.
This makes you sound more focused and projecting out of the pit-box. For musicals and commercials I play a lovely CONN 6H. This trombone is perfect for some French repertoire like Ravel's Bolero as well. He wrote the Bolero solo exactly for a small horn like this or similars like the Bach 8 or others.
My main mouthpiece, the daily workhorse is the Warburton Hubiemeister, designed by Terry Warburton and me.
Variations of it like the Hubiemeister Alto, the ST and 6T are for the different horns and repertoire requirements.
Rare cases makes me playing a custom Bach 3G and my Schmidt alto piece made by the wonderful Greg Black.